Corporate Partners Drive IACLEA Programs
IACLEA partners with thought leaders and innovators from across the world to bring the best products and services to our members. Backing from IACLEA Corporate Partners supports the advancement of IACLEA's strategic initiatives and furthers our educational mission, thereby enhancing the ability of campus public safety agencies to protect higher education communities.
Need a product or service? Our tagging search tool will show you which IACLEA Corporate Partners can provide what you need. Check it out. It's a great way to show appreciation to our partners for their support. Start your search by choosing a tag to the right.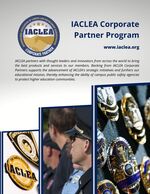 Typically, these organizations provide a multi-year commitment to invest in IACLEA and reach our membership during our Annual Conference, in our communications vehicles, and with direct sponsorship of various IACLEA programs. IACLEA can tailor a partnership program that meets your company's values, mission, and business goals. For more information about the Corporate Partner Program, contact Elizabeth Welsh, (202) 618-9546, or ewelsh@iaclea.org.
Other Ways to Support IACLEA
If Corporate Partnership isn't right for your organization at this time, IACLEA offers a range of ways to ensure your organization's name, product, and/or services reach our members on a regular basis, such as: sponsoring tuition fees to IACLEA training or programs, hosting Webinars, sponsoring IACLEA sections, advertising in or sponsoring one of IACLEA's communication streams, creating unique events and more. We're happy to work with you to match your organization's goals and services to our members' needs. Reach out to Elizabeth Welsh, Director of Business Development, to learn about other sponsorship opportunities today.
Member Resources
CONNECTIONS is IACLEA's member community featuring peer networking and a full library of resources for the betterment of campus public safety.